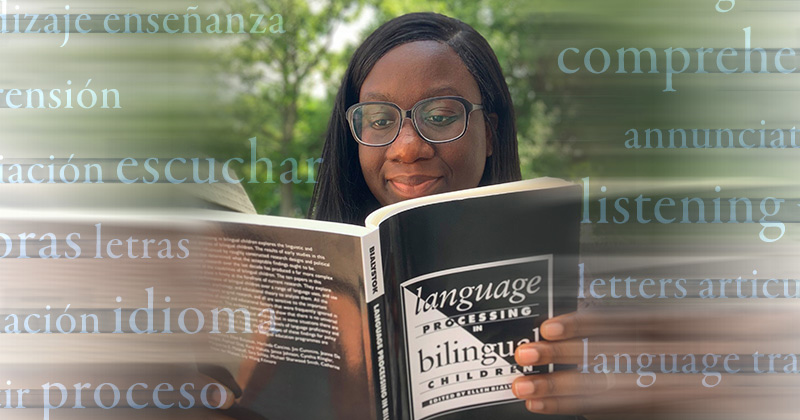 Bilingual special education | UDaily
Q: How would you explain your work to a fifth grader or someone's grandparent?
Lewis: My work is to promote and encourage equitable bilingualism and biliteracy programs that serve all kinds of students. The current work will be used to eventually redesign and improve teacher preparation programs that are geared towards serving culturally and linguistically diverse students. In my opinion, the first step would be to have all teacher preparation programs be dual certified with special education because every teacher, regardless of the type of classroom they serve (inclusion, pull out, or regular) can benefit from the knowledge that special education courses provide. From there I believe that we can work toward including and promoting the bilingual and biliteracy component of teacher preparation programs. 
Q: How does this experience align with your broader professional goals?
Lewis: Eventually, I would like to be the Secretary of Education for the United States of America. The work that I do now is the foundation that I am laying to influence educational policy, and I expect to be a part of the movement that encourages the U.S. to take a more global approach as it relates to education. Many other countries, such as Germany and Spain, have multilingual populations where students learn other languages as early as the first grade. I would like to assist universities to create effective teacher preparation programs that can support the needs of current and future students of all cultures and capabilities. In the near term, I want to be a bilingual special education teacher for either second or third grade. Bilingualism and biliteracy for Spanish and English is the educational environment that I expect to begin in, but I recognize there is a need for bilingual teachers to support students who speak other languages, such as Filipino Tagalog and Haitian Creole.
Q: What do you do when you are not doing research?
Lewis: When I'm not doing research, I am most definitely singing — at church where I also play piano or at my job at the Stone Balloon where I serve a multitude of customers.
Q: What advice would you give to your fellow students who may be considering or are planning to pursue undergraduate research?
Lewis: Trust what you know about your field. The right people will guide you and encourage you, and you will find yourself. Don't let people who don't see your vision discourage you.
For Future Researchers
Blue Hens with big ideas will find ample opportunity to explore them with the help of the Undergraduate Research Program (URP).
A hallmark of any college experience, research is the process that leads to the creation of knowledge. It begins with a question and ends in a new understanding of the world around us.
Those who participate directly benefit from an enriched learning experience. They enjoy meaningful mentorship and develop critical leadership and communication skills. In addition, undergraduate researchers often earn higher GPAs and have greater success after graduation.
To explore more, attend the virtual Undergraduate Research Symposium on Thursday, Aug. 12 from 9 a.m. to 5 p.m. Then, get started on your own experience by scheduling a consultation with URP staff.
Questions? Contact undergradresearch@udel.edu.