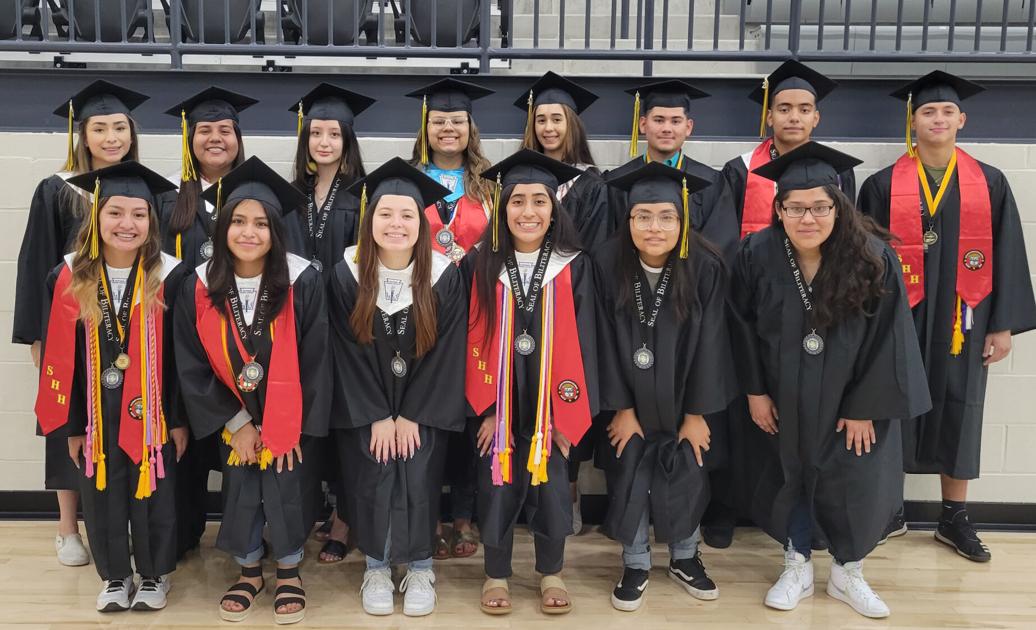 CHS receives Seal of Biliteracy; Second consecutive year for national honor | Local News
For the second consecutive year, the Seal of Biliteracy has been awarded to students at Cleburne High School who have obtained fluency in two or more languages by graduation and met the academic standards required for the national recognition.
The recipients, all 2021 graduates, include Michelle Cruz, Ashley Hernandez, Tamara Reyes, Sandra Solis, Kevin Duran, Juan Mares Ramirez, Yaritza Rojas, Ashley Vega-Enamorado, Arlett Garcia, Gisell Ortiz, Jose Sanchez, Denisse Garcia, Sydney Pioquinto, Rhadja Silva and Brenda Zamora Chavez. 
To be eligible for the award designation, students had to maintain a B average throughout high school, pass their English I and English II End of Course exams and achieve a score of 3 or higher on an advanced placement test in an upper level foreign language course. Among the honorees, six were members of the 2021 Top Ten Percent, including Zamora Chavez who was valedictorian.
"The Seal of Biliteracy is a national award that has been adopted by the state, with the Texas Education Agency setting the criteria," said Christy Burton, CISD director of World Languages. "We felt in implementing the Seal of Biliteracy initiative at the high school it would be a good opportunity for our students, in recognizing them for their unique skills. They have mastered biliteracy, bilingualism and multiculturalism, which are the three pillars within bilingual education. It is a statement of accomplishment for both college admissions and future employment. 
The Seal of Biliteracy designation is included on the graduate's transcript and an actual seal on their diploma. 
"Despite the challenges of COVID, our number of honorees grew from 10 in 2019-20 to 15 this year," Burton said. "I credit our teachers in the CHS Foreign Language Department for the important role they provided in the achievements of these students. They seek out students to take on the level of academic commitment required for the Seal of Biliteracy, and encourage them as they work toward the achievement. These teachers amaze me with their level of dedication."
Silva, who was among the academic leaders within the Class of 2021, came to Cleburne from Brazil. When she enrolled as a fourth-grader at Santa Fe Elementary School, Portuguese was her first — and only language.
"It was so terrifying," Silva said. "It was hard to be in a place where I was not understood, and didn't know what people were saying to me or about me."
The Santa Fe staff, led by her bilingual teacher Marcia Byrd, a fellow native of Brazil whose first language is also Portuguese, worked quickly to take the "terror" out of Silva's transition to Texas. At the end of the school day, English as a Second Language Specialist Amy Easter would take over as Silva used Rosetta Stone language software to build on her mastery of a second language.
"I knew it was necessary for me to learn English," Silva said. "In Brazil, we learned some English — the colors, the names of animals — but that was far from learning a whole new language."
By the second half of her fifth-grade year, Silva reached a major milestone in her pursuit of English. She attributes her drive and determination, coupled with the support she received from Byrd.
"I think by the middle of fifth grade I was bilingual," she said. "Everything just clicked. By the fifth grade I could have a normal conversation in English with anyone, while still speaking Portuguese at home. My determination to learn played a big part. I was trying so hard to speak in English — and understand. It took a lot of perseverance. Mrs. Byrd was my teacher, but also a great comfort to me. She was someone who understood my circumstances. Thanks to her, I also began learning Spanish."
By the time she was in high school, Silva was showing her proficiency in her third language, in making a perfect score on the Spanish 4 AP exam.
"I was real proud of myself for that," she said. "In learning English, then Spanish, I had to try harder, and be more determined — but that helped me get where I am. Receiving the Seal of Biliteracy made me think back to the fourth grade and that early struggle to learn English. This award gave me such a feeling of accomplishment."  
In addition to finishing in the Top Ten Percent, Silva was president of Rotary International's Interact Club for high school students, served as parliamentarian of National Honor Society and was president of National Spanish Honor Society. Silva competed three years on the Showstoppers Dance Team, serving as captain as a senior. 
She also achieved her certified nurse aide state certification as a health sciences student in the CHS Career and Technical Education program. Silva is now living in College Station and about to begin her first semester at Texas A&M University, where she is double majoring in biology and Spanish, with a minor in pre-med. She is also working as a CNA on the surgical floor at Baylor Scott and White Medical Center.  
"Adding the Seal of Biliteracy national recognition is a reflection of the opportunities we want to make available to students in CISD," Burton said. "As students' transition from the 50/50 dual language model, this is the final milestone in their bilingual journey that starts in kindergarten.
"With the numbers we are seeing in our dual language program, and how it is expanding to middle school, it ensures our students will be able to participate and achieve in high school, including the rigors of advanced placement courses," Burton said. "It's also exciting in hearing from bilingual teachers interested in our district and what we are doing in our two-way dual language initiative."